Description
Specs
Application
Downloads
Testimonials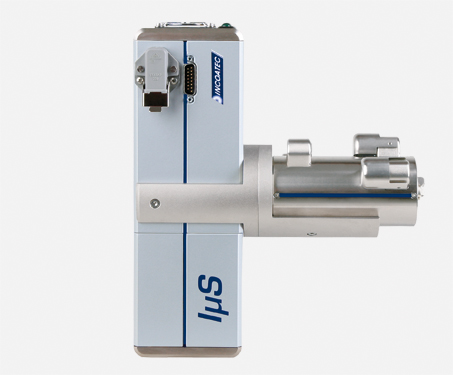 The Incoatec Microfocus Source IµS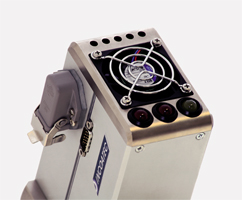 Air-cooling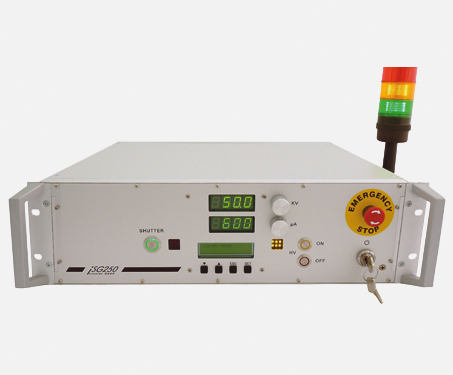 Generator ISG250
Microfocus Source IµS 1.0
IµS stands for "Incoatec Microfocus Source". It stands also for
an air-cooled sealed tube for different energies
3 years warranty
stable beam in flux and position, long lifetime, no maintenance
It consists of a microfocus sealed tube with high brilliance and a high-performance 2D focussing or collimating Quazar multilayer mirror. IµS is available for Co-Kα,Cr-Kα, Cu-Kα, Mo-Kα and Ag-Kα radiation and gives you a performance beyond traditional 5 kW rotating anode sources, with the ease of handling of sealed tube systems.
The IµS is characterized by
no moving parts
long lifetime without maintenance
extremely stable
short warm-up time
no water cooling
easy tube replacement
easy adaptable to all common goniometers
low cost of ownership, comparable to common sealed tubes
IµS is powered by a small generator unit which easily fits into a 19 inch rack, and can be delivered with a collimator system. The complete system is radiation safe and vacuum tested.

IµS is available with many accessories and various service packages.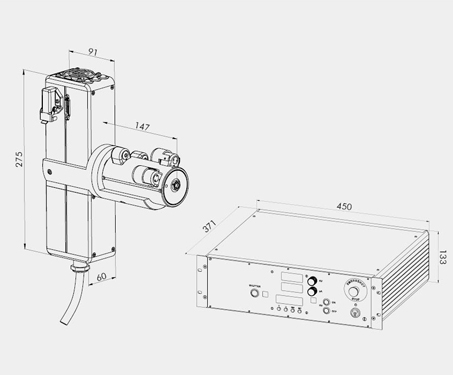 Technical details IµS
| IµS | |
| --- | --- |
| Length | 238 mm |
| Height | 275 mm |
| Width | 60 mm |
| Weight | 6.6 kg |
Technical details generator
| Generator 19 inch | |
| --- | --- |
| High voltage | ≤ 50 kV |
| Current | ≤ 650 µA |
| Power | ≤ 30 W |
| Weight | 8.5 kg |
Since its introduction in 2006, the IµS defines the gold-standard for microfocus X-ray sources used for a large variety of applications in biology, chemistry, physics and material science, such as
Prof. Dr. Axel J. Scheidig, Christian-Albrechts-University Kiel, Department of Structure Biology at the Center for Biochemistry and Molecular Biology

Since January 2008 the department of Structure Biology at the CAU Kiel has been working with the Incoatec Microfocus Source IµS-Cu. Prof. Axel Scheidig and his group use the high-performance combination of Incoatec Microfocus Source IµS and mardtb (Marresearch GmbH) for protein screening.

"Apart from the superior data quality, it was the prospect of air cooling and low-maintenance which were our main reasons for purchasing the Incoatec Microfocus Source IµS. We have been using the Incoatec Microfocus Source for a year now, and can confirm that it absolutely meets up to our expectations. As well as being able to screen the protein crystals in preparation for measurements at the synchrotron, we can also collect entire data sets, which we have released in most recent publications. During this one year the Incoatec Microfocus Source has been working free from defects and without significant loss in intensity." (February 2009)
Prof. Tilman Schirmer, Department Structural Biology at the Biozentrum, University of Basel

Since February 2008 the Biozentrum of the University of Basel has been working with the Incoatec Microfocus Source IµS-Cu. Prof. Tilman Schirmer and his group at the Biozentrum use the high-performance combination of Incoatec Microfocus Source IµS and mardtb (Marresearch GmbH) for protein screening.

"For one year now our IµS has been in use regularly for screening purposes, without us worrying about the X-ray source. The small protein crystals which are sensitive to X-rays are characterized under excellent conditions. This enables us to be much effective in choosing the correct sample for data collection at the synchrotron. In addition to that we use the IµS successfully for routine data collection. The IµS completely meets our expectations." (February 2009)